October 2023 HEAP Update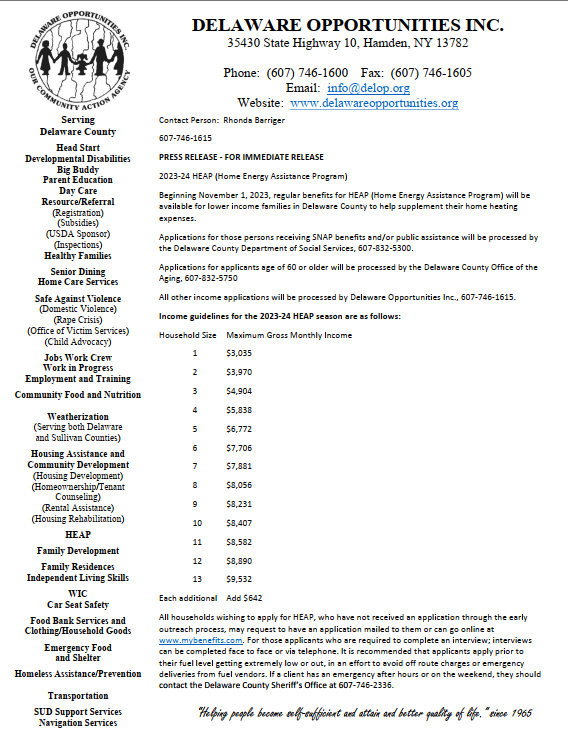 Upcoming Election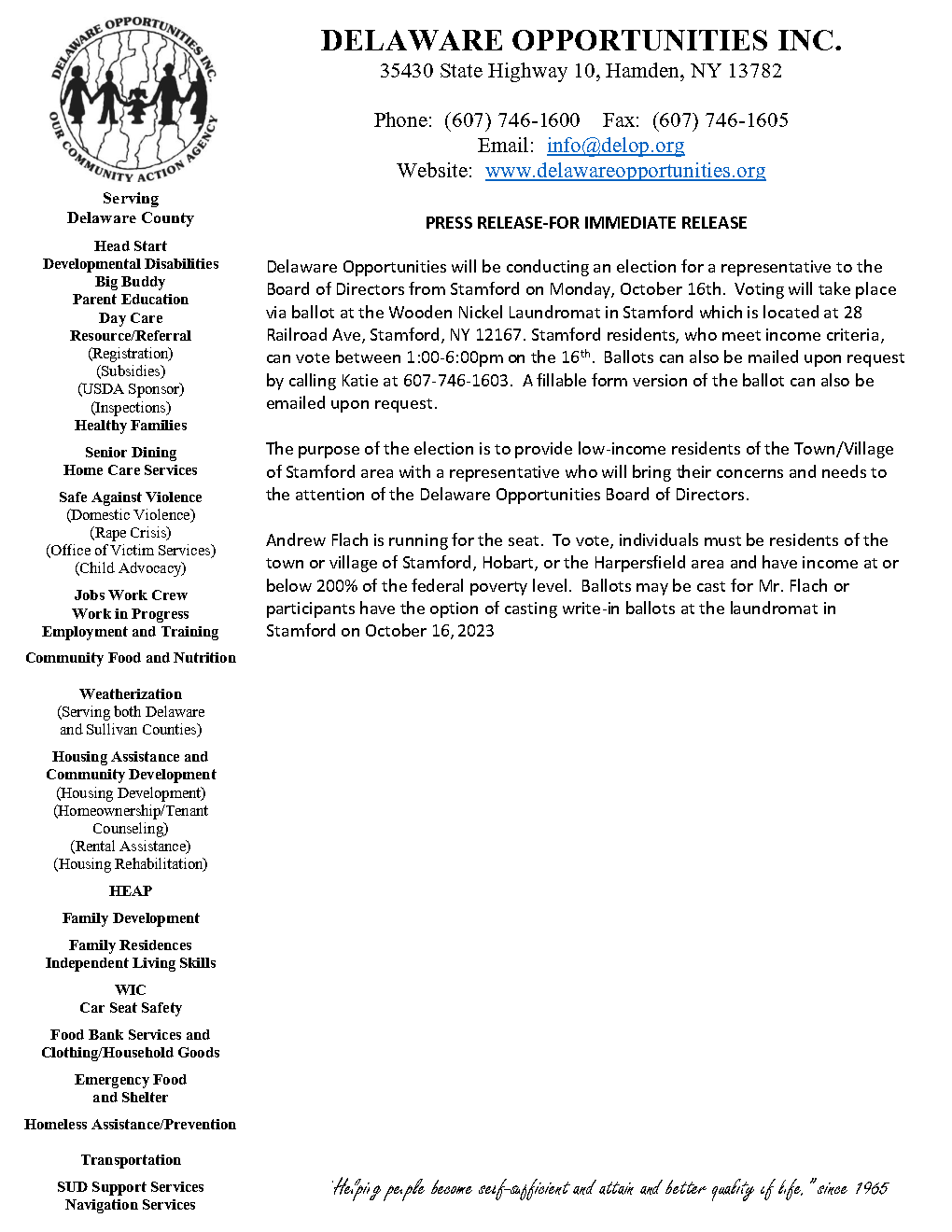 Panera Bread Fundraiser for Delaware Opportunities
PRESS RELEASE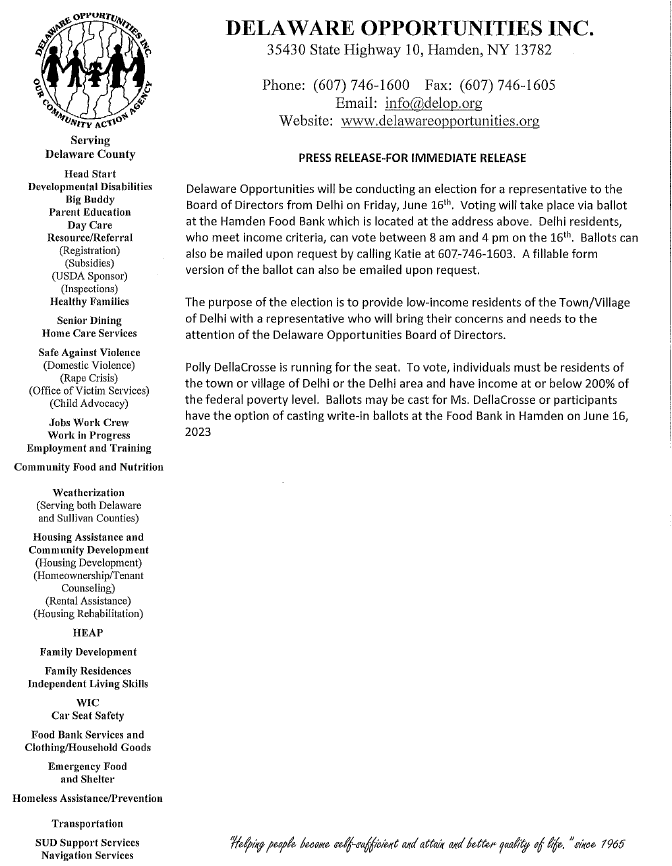 Healthy Delaware
VOLUNTEER OPPORTUNITY: An Innovative Readiness Training is coming to Delaware County!
Are you interested in volunteering? An Innovative Readiness Training is coming to Walton in July and we need your help! 
Coming in July, the military will be coming into Walton to serve, at no cost, Delaware County (and beyond) residents by providing medical, dental, optometry and veterinary care. More to come of these specifics, but for now, Delaware Opportunities, in collaboration with Delaware County, is looking for volunteers for the event. Please use the link below to sign up to volunteer:
https://signup.com/client/invitation2/secure/11870225016477240127/false#/invitation
If you are an agency that wishes to have a table in our community resource area, you can sign up here:
https://docs.google.com/forms/d/e/1FAIpQLSdBSPeXtZD0ZRNlQYeoKzfGFP85R8ZLWxDNJQDutZ6631HQ5g/viewform
For questions, please contact Katie McAteer at (607) 746-1603 or via email at kmcateer@delop.org.
Press Release
Family Fun Festival
HEAP Update
2023 Food Distribution Information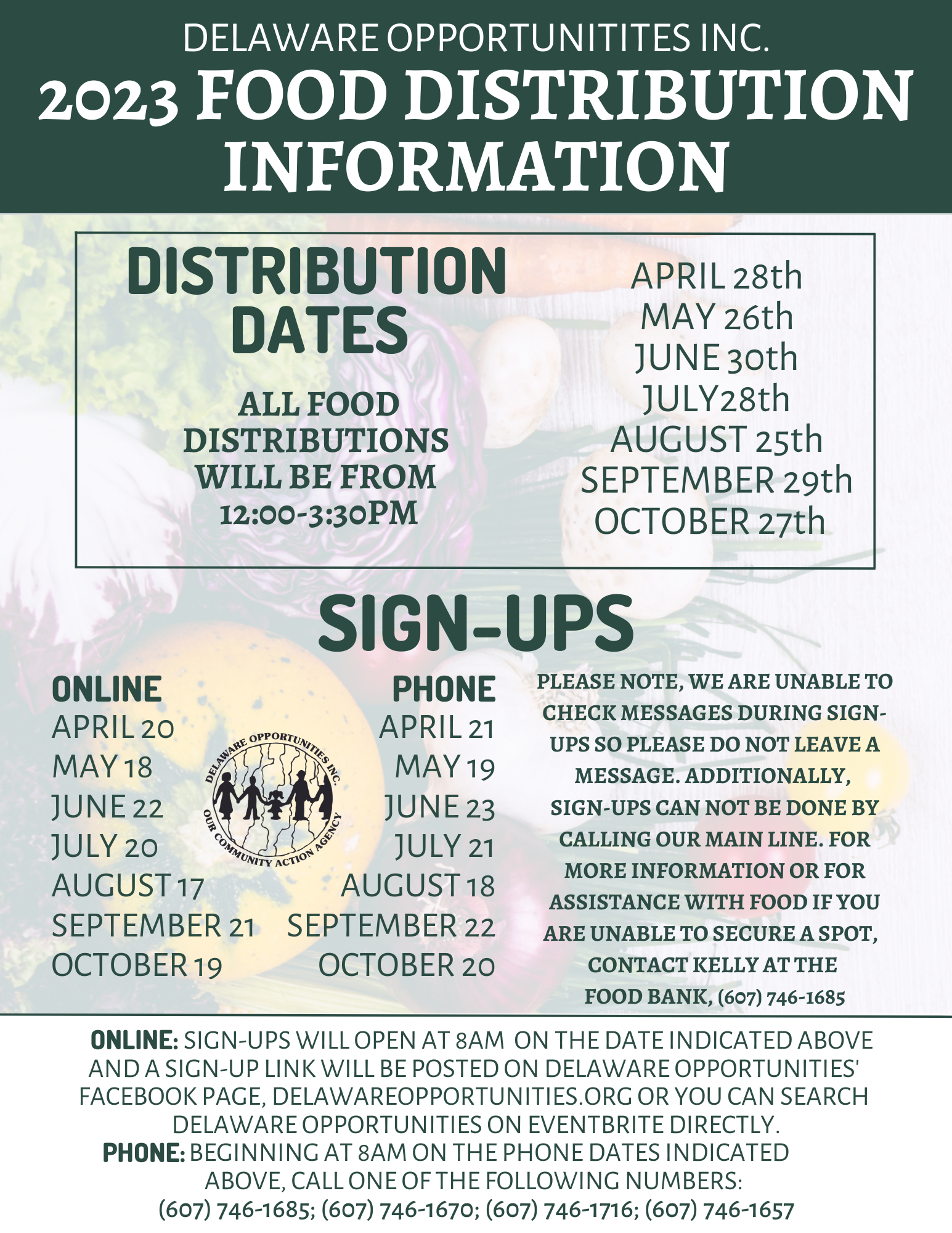 It is that time of year again....distribution time! Attached here are the fliers outlining the dates for both the food and dairy distributions as well as the process for signing up this year (same as end of last year). Please be reminded that there are two ways to sign up...through Eventbrite or by calling in on a designated date. Please be mindful that the distributions fill up very quickly online and on phone sign up days our lines are often hard to get through on because everyone is calling at once. Please be patient and just keep trying. Do NOT leave messages as we will not receive them in time to sign you up. Only the phone numbers designated on the fliers will get you to a sign up person. Do NOT call our main line.
The link for each sign up will be shared via an event on our Facebook page along with on our website. Sign ups happen the week prior to each event (Thursday and Friday for food and Wednesday and Thursday for dairy).
In addition, we are being required to collect additional information this year by our funding source. You are not required to provide the information but we are required to ask. If you are willing to share, it does help to ensure we can continue to receive funding and food for these distributions. Your information will be kept confidential and does not disqualify you from receiving food or dairy in any way. (The questions have to do with income.) Again, please know we are only asking these questions because it is required.
The distributions will continue to operate in a drive thru style. We ask that you bring your ticket and/or confirmation number and plan to stay in your vehicle. Only one sign up per household. If you need someone to pick up your food or dairy for you please send them with your confirmation number.