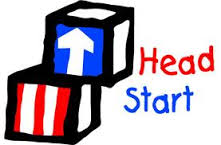 Delaware Opportunities Head Start is currently recruiting children who will be 3 or 4 for the 2018-2019 school year.  Centers are geographically dispersed through the county.  Transportation is available for most enrolled children.  Families must generally meet low income guidelines; however, 10% of children can be served regardless of income.  
Head Start is a federally funded program designed to promote the appropriate development of the individual child in all areas, including health, nutrition, social skills, emotional well-being and overall preparation for kindergarten entry.
Head Start also encourages family engagement.  There are opportunities for parent participation in a variety of activites. Staff also assist families who require help in obtaining other services.  Children with disabilities are also served by Head Start and receive special attention according to their needs.  
To obtain an application or for further information, families should contact the Delaware Opportunities Head Start main office staff at 607-746-1640 or a nearby Head Start center.  Center locations and telephone numbers are as follows: Arkville, 845-586-4002; Davenport, 607-278-6020; Delhi, 607-746-6591; Deposit, 607-467-3505; Fishs Eddy, 607-637-4256; Franklin, 607-829-3312; Grand Gorge, 607-588-8151; Sidney, 607-561-2341; and Walton, 607-865-6319.