In celebration of Head Start's 50th Anniversary, the Delaware Opportunities Inc. Head Start Program will highlight one of our Head Start centers monthly. Check in each month to learn about each of our centers spread across Delaware County. Learn about our center hours, locations, how to enroll your child and how to volunteer at one of these fine Head Start centers. Learn more about the amazing dedicated and devoted staff who make the Head Start experience one to make memories and provide life lessons for both children and parents alike!
Walton Head Start is located at 150 Industrial Park Road. Walton Head Start is a double center which has 2 classrooms as well as home base program serving a total of 48 children ages 3-5 years old.  Classroom 1 is a full day (6 hour) program meant to serve children of working families. Classroom 2 is a half day (4 hour) program. The home base program serves 12 families which provides 2 socialization or "peer experiences" opportunities at the center per month as well as weekly in home sessions. The Walton Head Start employs 12 staff.                 
Notes from Nancy, Walton 1 Lead Teacher:
Recently we turned our classroom into a farm, complete with barns, corn and farm animals. We also visited a farm and learned a lot about cows and how we get their milk. We also met baby goats, piglets, cats and even a rabbit. We also learned about ponds. We know what lives in a pond and made frogs, fish and ducks. We studied planting and how a plant grows. We even grew our own lima beans in our window. Creepy crawlers invaded our room when we learned about bugs, spiders and worms.
Notes from Colleen, Walton 2 Lead Teacher:
It has been a busy year in Classroom #2. We have had visits from the Walton Fire Department, visited a local farm and had parents and grandparents come into our class to share all the wonderful things they know how to do. We had one of our parents and grandparents come in and help us make postcards and even had a post office set up in our class so we could pretend we were mail men. We also had one of our grandmothers come in and help us plant seeds. We got to bring home marigolds to share with our families. Recently we learned about zoo animals. We made zookeeper vests and learned about a new zoo animal each day and read the book Goodnight Gorilla which we loved!!
Notes from Teri Walton Home Based Teacher:
Home base children have had a wonderful year. Our year was packed with enjoyable learning opportunities for families and children. One of our favorite themes was storytelling and nursery rhymes. We enjoyed the opportunity to measure and mixing ingredients to make The Gingerbread Man. We were able to eat him before he ran away! Another favorite, as always, was learning about dinosaurs and fossils. We also learned about our bodies, healthy eating, proper dental practices, exercise and outdoor safety. Spring brought lessons on farming and gardening.  They enjoyed planting bean and sunflower seeds and observing them as they grew. Learning about animals is always a hit with the students. As always, home base is full of exciting new things to explore and learn about each week in the home.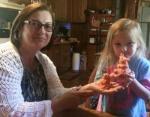 Seen here Teri Fairchild-Wacha Home Base Teacher and Lillie show off the projects they made.
 Elijah is showing off his fantastic artwork at home!
Here we are enjoying our beautiful large playground!
Walton Fire Department came to visit us and show us that firemen are not scary at all!
 We got to see the inside of an ambulance!
 Look out everyone!! These firefighters are racing to get to the fire!
To learn more about the Walton Head Start and how to enroll your child or how to volunteer your time please contact the center. We are always recruiting new students. If interested please give us a call. We look forward to hearing from you. 
150 Industrial Park Road
Walton, NY 13856
607-865-6319
Hours: 8:00am-4:00pm staff
8:30am-3:30pm children
During the summer, information can be obtained from the main office at 746-1640.
Meet the Staff:
Classroom #1
Lead Teacher Classroom 1: Nancy Charles
Teacher Aide: April Briggs
Classroom Aide/Bus Monitor: Jayne Barnes
Classroom Aide: Lisa Lawrence
Classroom #2
Lead Teacher: Colleen Bloom
Teacher Aide: Seana Haskin
Classroom Aide and Bus Monitor: Norma Castro
Home Base Teacher: Teri Fairchild-Wacha
Family Services Worker: Amanda Reichert
Food & Nutrition Services Worker: Heather Conklin
Kitchen Aide: Christine Winner
Custodian: Christine Winner
Bus Driver: Allison Smith